Toucan care cleaning product gets top billing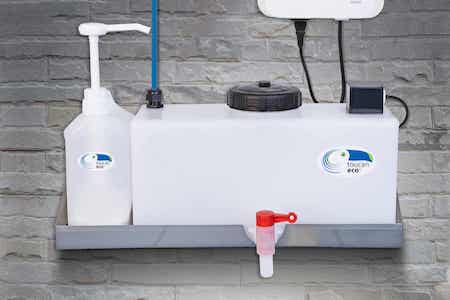 The Cinnamon Group has chosen to use Toucan cleaning solution to replace its usual daily cleaning chemicals across their entire portfolio.
By carefully partnering the Toucan solution with specialist cleaning chemicals, the care provider will optimise safety and impact on the environment.
Toucan supplier Traffik said many clients are concerned about spraying aggressive, synthetic chemicals in their homes, conscious of resident and staff safety and the efficacy of the products they are using.
Two products that stand out in a sometimes-confusing market are Toucan ECA and AM Protector. Toucan ECA is a 100 per cent safe disinfectant for in-house use, providing infection prevention, while AM Protector is a long-lasting anti-bacterial and anti-virucide coating.
Toucan ECA surface disinfectant is an effective cleaning and disinfection solution that is produced on-site and on-demand using a cost-effective, wall-mounted unit. Non-toxic, non-allergenic, 100 per cent recyclable, the Toucan solution is made using a tiny amount of salt, water and electricity and is able to replace up to 85 per cent of daily cleaning and disinfection chemicals.
Toucan requires no COSHH and creates no chemical waste, packaging waste, storage requirements or the environmental impact of regular deliveries. It is also safe and easy to use and smear free on all surfaces.
Toucan Eco is Certified to: EN 1276 (2019), EN 1656, EN 13727, EN13624, EN 13697, EN 14476, EN 16777, NF T 72-281 and with VAH Certification to clean and disinfect everywhere 100 per cent safely.
Toucan can transform your cleaning and disinfection regime with a synthetic chemical free alternative to standard chemicals.
AM Protector meanwhile is a safe, innovative, silver ion based, anti-bacterial and anti-virucide coating that lasts up to six months and meets EN 22196.
Simply to apply and easy to maintain, the product is wiped onto surfaces using a microfibre cloth and is touch dry in minutes.
AM Protector is cost-effective with good coverage and efficacy and has UV activators that enables users to monitor its presence using a proprietary UV torch to ensure its always on even the highest trafficked surfaces.
It is suitable for all hard surfaces including IT equipment, touch points, railings, desks, reception, phones etc. The surface can then be maintained with a usual daily cleaner or Toucan ECA.
Used together, Toucan Eco and AM Protector achieves high protection against spores, virus and bacteria.
For more information, to buy Toucan products or organise a demonstration call Traffik on 01985 840400 or email [email protected]
Other News
Featured Supplier
We are one of the UK's leading trade only large format graphics and banner printers.  Established as a small sign company in 2008, we have grown in scale and now have 1000's of loyal trade clients in the UK and Europe.  We have developed a trade online hub to cater for your needs quickly, efficiently and as cost effectively as possible.
Our...