Rinnai hot water running towards 1,000 litres per hour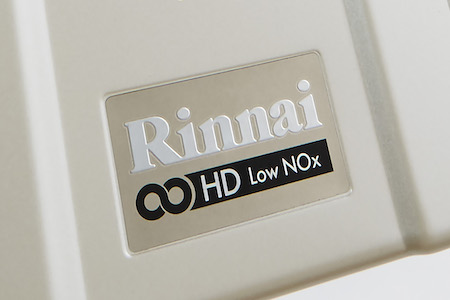 Rinnai's N series of continuous flow hot water heating units can now deliver almost 1,000 litres per hour per unit.
On top of this, the units with precision temperature control for either thermal disinfection or safe use on those users more vulnerable to scalding can be installed rapidly due their light weight, ease of handling and inherent design engineering.
"Any site needing our products urgently can have instant access to them – we deliver direct to site for as long as it takes a courier to travel from our distribution centre to the chosen site. All orders are dispatched within 24 hours on a next-day service basis," said Rinnai operations director Chris Goggin.
"The units can be installed - and working - in just hours. We have seen multiple instances during the recent months where continuous flow units and systems have been able to provide uninterrupted flows of hot water to some sites which previously had stored systems that were continuously running out of supplies," he added.
Goggins continued: "Ease and speed of installation and precision temperature control, whatever the specific or unique requirements have proven critically important to several sites."
The four N series models are: the N1600i giving 954 litres per hour; the N1600e (external), also giving 954 litres per hour (at 50 degrees); the N1300i giving 775 litres per hour and the N1300e also giving 775 litres per hours of temperature controlled at 50 degrees.
The two 1600s have load profiles of XXL and are efficiency class A rated under ERP (96 per cent gross efficiency), while the 1300s are load profile XL and are also a gross efficiency of 96 per cent.
Other features include: flue up to 30-plus metres for concentric, turbo fan, built-in controller as standard on both internal and external models, cascade cable assembly allowing multiple water heaters to be connected and function as one total and complete system.
Sensei N Series models also include built-in flue damper, air inlet filter, frost protection (minus 15°C on the internal versions and minus 20 °C on the external versions), easy convert manifold, controller as standard (lockable, set up of appliance, temperature set up to 75°C), easy connect BMS controls, and ultra-low NOx (less than 28mg/kWh).
Installers can contact the company direct in gaining access to the supply of units by calling 01928 531 870 or emailing [email protected]
Alternatively, use the smart online contact points 'Help Me Choose' or 'Ask Us a Question' on the Rinnai website homepage at www.rinnaiuk.com.
See more about Rinnai UK Limited
Other News
Featured Supplier

As experts in Wireless Nurse Call Systems, and in particularly call bell systems for care homes, we'll work closely with you to understand the unique nurse call needs of your care home(s). We'll provide a tailored nurse call solution that allows residents to feel safe and provides key cloud reporting data to aid you in your role of managing a safe...