Roll-up for pop-up Christmas banners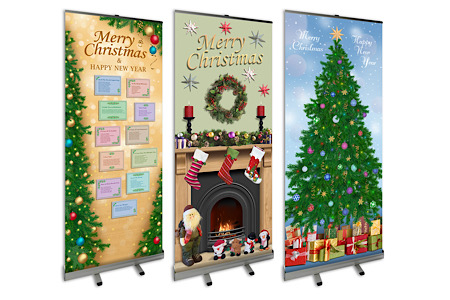 Care Home Murals has recognised the difficulty in keeping Christmas trees and traditional decorations clean and tidy by offering a new range of festive pop-up roller banners.
At two metres high and almost one metre wide, the Christmas pop-up decorations are eye-catching, featuring colourful and familiar seasonal imagery.
Designs include richly decorated Christmas trees, Christmas firesides with stockings ready for Santa's visit, accessible Christmas carols and a snowy Christmas scene.
Each pop-up roller banner comes ready for use and is very easy to put up with built-in feet for added stability.
The printed surface is tough and smooth making it easy to wipe down and keep clean.
"Decorating your home for Christmas is always an enjoyable event for both residents and staff. But this year, as we deal with Covid, we might like to put some thought to the amount and type of decorations we plan to put up," said a Care Home Murals spokesman.
"Of course, nothing compares to the traditional Christmas decorations that we know and love. But when space is at a premium and cleanliness is paramount, these Christmas pop-up roller banners are a perfect alternative," he added.
For more information visit www.carehomemurals.co.uk
See more about Care Home Murals
Other News
Featured Supplier

Intastop Ltd has been leading the way in the specialist fields of anti-ligature products and door and wall protection for over 20 years. This pedigree, combined with the company's commitment to new product development and leading edge innovation, ensures Intastop remains a leading manufacturer and supplier to the healthcare, public and leisure...