Final phase of 'revolutionary' dementia care home starts on site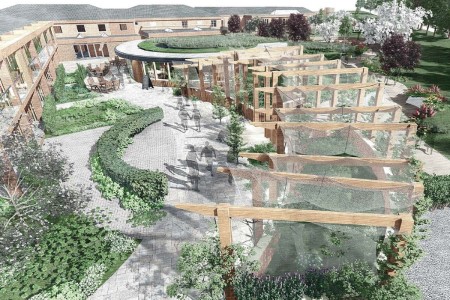 Construction of the fifth and final stage of Church Farm Care's "revolutionary" Rusticus dementia care home has kicked off in Cotgrave, Nottingham.
The work sees the addition of Hickling Lodge, a 30-bed standalone building with new day lounges, kitchen and laundry.
Once complete, all bedrooms will be furnished and equipped to the highest standard with full disabled access.
There will also be the addition of three detached, two bed assisted living pods, which will have 24-hour access to nurses and carers, as well as further parking and landscaping - including a walk-through aviary.
The work will also see the development of Socius, a social hub, which will include a cafe, hairdressers and cinema for both residents and the community to access and enjoy, with completion due in September 2021.
Work at Rusticus will also include alterations to the internal layout of the existing building to increase visibility and provide greater flexibility of spaces to promote independence, comfort, and quality of life for residents.
The Cotgrave home has been recognised as a Dementia Care Matters 'Butterfly Household Home' for the past eight years.
Meanwhile, Church Farm Care has achieved full planning permission and land acquisition for an extension at its Skylarks home in West Bridgford, also in Nottingham.
The extension work includes a hydrotherapy pool that will be available to local schools and community groups as well as residents.
Other News