Care caterers served honours at NACC awards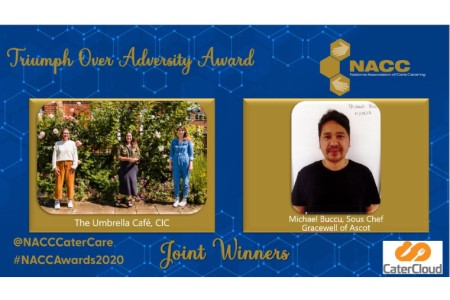 The contribution of care caterers during the Covid-19 pandemic has been honoured at a virtual National Association of Care Catering (NACC) awards ceremony.
The new Triumph Over Adversity award acknowledged the efforts of those working in care homes to those supporting the vulnerable in the community.
NACC said entries for this category painted a picture of "phenomenal generosity, professionalism and community spirit".
The judges could not pick one overall winner and the title went to two recipients, Michael Buccu, sous chef at Gracewell of Ascot in Berkshire, and The Umbrella Café CIC, Whitstable in Kent.
At the start of the pandemic, Michael lost his wife, who was a trainee nurse and care team member at Gracewell of Ascot, to Covid-19. This was devastating for Michael and his three daughters, who all also caught the virus.
NACC said that, despite his own personal tragedy, Michael shown nothing but dedication, professionalism and support.
"He returned to the kitchen and through his grief continued to work with his head up, producing fantastic food for the residents and keeping the team going. When head chef, Matt Dodds, suffered serious health issues, Michael also took the time to call on and support him," they added.
The Umbrella Café is a social enterprise and not-for-profit hub for social engagement, located in the Whitstable Umbrella Community Century. It welcomes callers for coffee and home cooked lunches made using surplus food from Fare Share and donations from local suppliers.
"When lockdown forced the café to close, the Umbrella Café and Food Friends (a local food-sharing initiative) joined forces to create the Community Dinner Fund to continue to support those in need. It delivered around 3060 meals and 400 breakfast parcels to 165 regular beneficiaries from late March to September," said NACC.
The other winners were:
Pear Tree Court, Care UK - Care Establishment of the Year award.
Hertfordshire Independent Living Service - Meals on Wheels award.
Meallmore - Catering Team of the Year award.
Anne Dudley, catering support manager, Hampshire County Council - Catering Manager of the Year award.
Peter Hall, head of kitchen, Cranleigh Paddock Care Home - Our Care Catering Hero award.
North region - Region of the Year award.
James Clear, hotel services manager, Care UK - Pam Rhodes Outstanding Achievement award.
Neel Radia - National Chair's award.
Other News