Winter Infection Control: Prepare now with DDC Dolphin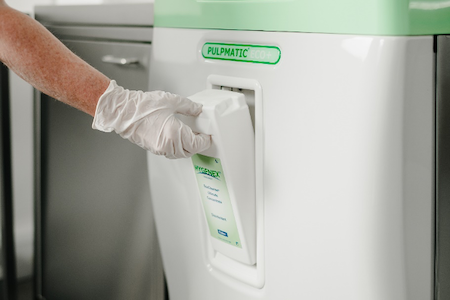 With the threat of COVID-19 pressing on, the winter months are a chilling prospect for hospitals and care homes alike.
The traditional 'cold and flu' season – where extra pressure on medical facilities is always to be expected – is an even bigger danger while in the grip of a pandemic.
The UK government is introducing additional financial support to help hospitals and care homes provide the best possible infection control measures during the winter months. 117 Trusts will be allocated a share of £300 million to upgrade A&E facilities, allowing them to treat the public efficiently, while still adhering to stringent hygiene standards. In addition, an extension to the infection control fund issued in May 2020 will allow care providers to increase protection against the challenges ahead, with an extra £546 million set to be distributed.
Now is the time to invest in additional infection control precautions – but how should the money be spent?
Infection control technology is constantly evolving. Facilities should consider, therefore, if their current infection control solution could be expanded or upgraded to accommodate imminent additional pressure on hospitals and care homes.
Even when asymptomatic, those carrying the COVID-19 virus can still shed the bacterium in their waste. As a result, it's never been more important to address the infection control measures within sluice rooms and prevent the spread of aerosolised pathogens.
DDC Dolphin have designed, engineered, and continually developed sluice room machinery for the past 30 years and are proud to offer some of the most advanced infection control technology available today. They manufacture and supply sluice room equipment including medical pulp macerators, bedpan washer disinfectors, incontinence product macerators, air purifiers, medical pulp consumables and maceratable/flushable wipes.
This equipment is essential for the safe disposal of human waste in hospitals and care homes – preventing the spread of infections including superbugs.
Your sluice room machines are powerful, but these advanced machines must be serviced and maintained over their lifespan in order to protect you as well as they possibly can. Regular servicing ensures this vital equipment stays fully operational, protecting clinicians, patients, residents and staff from infection. DDC Dolphin offer a wide range of 360° care and maintenance packages that include:
Twice-yearly or annual servicing and maintenance to increase the operational life of equipment
Five-year parts and labour warranties – to help avoid unexpected bills
Discounts of 5-15% on chemicals
Discounts on parts
Sluice room health checks.
A service package will not only help you to avoid unplanned costs, but also help you to mitigate breakdowns by catching problems before they develop, as well as preventing any unexpected downtime and lengthening the service life of your machine.
For more information, please contact DDC Dolphin Marketing Director Zoe Allen, 01202 731555, [email protected], www.ddcdolphin.com
Other News
Featured Supplier

Founded in 1955, based in Ross-on-Wye, UK. A privately-owned company with over 65 years of British innovation in waste disposal management.
Haigh designs and fully manufactures a well-established range of Haigh bedpan disposal macerators that are trusted by hospitals and care facilities throughout the UK and around the world. The reliable...
Upcoming Events
Glasgow, Hampden Park Stadium
9th September 2021
Birmingham, NEC
15-16 September
Birmingham, NEC
13-14 October
London, Epsom Downs Racecourse
19th October 2021
Cardiff, Cardiff City Stadium
9th November 2021