HC-One facing possible legal action over Covid deaths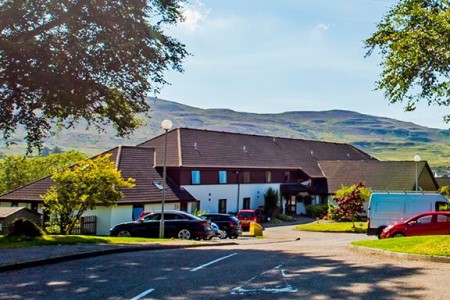 HC-One, the UK's largest care home operator, is facing the threat of possible legal action over the deaths of residents from Covid-19.
Law firm Leigh Day said it is investigating potential legal action on behalf of families in England and Scotland over allegations that "systemic failings" at HC-One homes "led to hundreds of deaths which would otherwise have been avoided".
Among the families represented by Leigh Day are the relatives of Colin Harris, who was one of ten residents who died during a Covid outbreak at Home Farm (pictured) on Skye.
The home in Portree was acquired earlier this month by NHS Highland to secure resident safety.
Leigh Day said Harris' widow is "demanding to know what HC-One knew of the risks to the residents from the Covid-19 virus, what it did to protect residents and whether systemic failings across the HC-One network of care homes, including the movement of workers between homes and accepting admissions direct from hospital, led to the unnecessary deaths of thousands of residents".
The law firm is also investigating the death of an 80-year old resident in a Nottingham care home who died in April.
Richard Meeran, a partner at Leigh Day who is representing the families, said: "We have heard so much about what has been done by the government and by these private companies to protect residents of these care homes, yet the figures are still difficult to find and it is our belief that the true scale of deaths from Covid-19 in privately-run care homes in England and Scotland is far worse than we can imagine at this stage.
"These private companies, that pay no tax in the UK, are making millions for shareholders whilst going with their begging bowls to the taxpayer for PPE and testing.
"With the amount that they are charging for local authority funded residents and the extortionate rents they ask families to pay privately, rising each year way above inflation, they must account for the quality of the care they provide and whether consideration of profit comes before the safety of their residents and staff."
HC-One, which runs 329 care homes across the UK, was formed in 2011 following the collapse of the UK's then-largest nursing home operator, Southern Cross Healthcare.
An HC-One spokeswoman told The Care Home Environment: "HC One is only aware of this proposed action through Leigh Day's media statement.
"The company understands fully the effect of this unprecedented pandemic on our residents, their relatives and our colleagues who have been caring for them. We have utmost sympathy for the distress and loss that has been felt by so many in recent months.
"As a responsible provider, which pays all UK taxes due and works constructively with regulatory and enforcement agencies, any claims will be referred to our insurers. Therefore, it is not appropriate to make further public comment at this time."
Other News
Featured Supplier

 
 
Wireless Radio Nurse call systems are now commonplace in nursing and residential homes, with Medicare now serving over 100,000 residents around the UK. Due to their ease of installation our Nurse call systems can be quickly and efficiently installed in any home. Our advanced technology has proven to work in the most challenging...
Upcoming Events
Glasgow, Hampden Park Stadium
9th September 2021
Birmingham, NEC
15-16 September
Birmingham, NEC
13-14 October
London, Epsom Downs Racecourse
19th October 2021
Cardiff, Cardiff City Stadium
9th November 2021