Scape Homes unveils plans to rock up in Stonehaven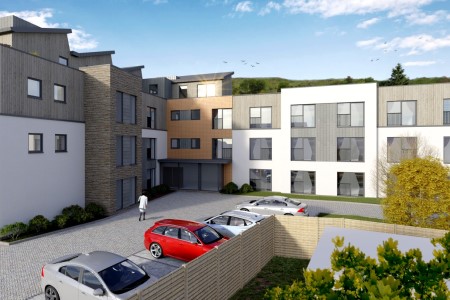 Scottish developer Scape Homes is to submit plans this month for a 59-bed care home in the coastal Aberdeenshire town of Stonehaven.
The developer has filed a pre-application notice with Aberdeenshire Council ahead of a full submission of proposals in the coming days.
The L-shaped care home is designed to provide rooms with ensuite facilities for residents over three storeys with a set-back smaller fourth floor.
The top floor will serve as a social space, set within a roof garden. Other facilities include bar, gym, cinema and private dining room.
Outside the care home will be car parking, communal gardens and landscaping.
Scape Homes said Care Concern - the prospective operator for the site – has identified increased demand for care homes in Stonehaven due to the number of people aged 75 and over in the area being higher than the national average.
"There is, however, shortfall in the quality and quantity of this type of housing in the Stonehaven catchment area, with no new care home bed spaces planned to help address this shortfall. This proposal seeks to help address this shortfall," said Scape Homes.
Other News