STJ Projects approved to distribute Covid testing booth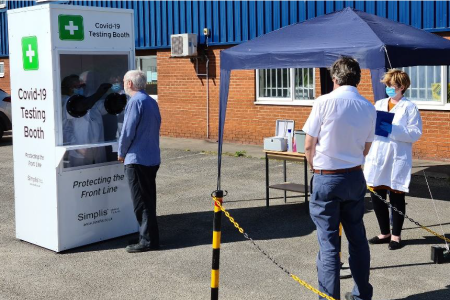 Lincolnshire joinery outfit STJ Projects has been awarded approved distributor status for door frame manufacturer Simplis' Covid-19 testing booth, which offers enhanced protection to NHS and other key workers.
Offering more than regular PPE, the booth prevents patients coughing or breathing directly onto NHS and other front line staff.
Testers take the samples within a protected environment whilst maintaining face-to-face contact.
The partners claim testing using the booth is safer than drive-in car testing as staff are not leaning into an enclosed potentially contaminated car environment.
Hundreds of patients per day can be tested with a very quick turnaround time between patients.
The testers do not need to change PPE between testings to prevent cross-contamination.
Manufactured within the UK, these booths could be delivered in three to five working days from receipt of order, fully assembled, ready for immediate use.
The booths are delivered ready to use manufactured from a durable powder coated steel construction.
The booths are said to be easy to disinfect inside and out with smooth surfaces, minimal seams and edges. Optional antimicrobial paint can be specified.
More information on the Covid-19 testing booth is available here:https://mailchi.mp/11d44bb04277/the-covid-19-testing-booth
See more about STJ Projects Limited
Other News