Country Court delivers care packages to 2000 staff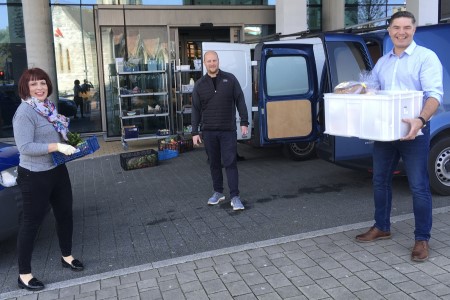 Some 2000 staff at Country Court's 32 care homes are to receive a package consisting of over 20 items including food, drink and basic provisions to help with day-to-day life during the Covid-19 pandemic.
The packages, which include items such as toilet roll, dried and tinned goods and hand sanitiser, are being sent after seeing their staff struggle to the get the provisions they needed.
The packages have been arranged courtesy of the Kachra family, owners of the Country Court group, which owns care homes across England from Sussex to Yorkshire.
"These are very challenging times for everyone in our homes. Coping with the unprecedented changes to everyday life is difficult enough and we have been humbled by the great strength people have shown turning up to the workplace and taking on the additional responsibility of keeping our residents safe every single day," said Country Court chief executive Alykhan Kachra.
"As the pressure on buying everyday goods has increased, we see our teams across the company struggling to strike a balance between delivering their part in the overall care service and adapting at home. We hope that this will go some way to making life a little bit easier for them," he added.
Residents at Encore care homes in Dorset meanwhile have received food donated by Hilton Bournemouth.
Hilton Bournemouth was one of the many hotels and food outlets that has closed due to the coronavirus lockdown.
Instead of throwing away the fresh food, they chose to donate it to the Encore care homes in Christchurch, Bournemouth and Poole.
"Our own suppliers are working hard to keep us well stocked and this will give our residents more to enjoy during this challenging time. We can't wait to see what our talented chefs and catering teams will create in the kitchen," said Encore care homes sales and marketing director Fiona Radford (pictured, on left).
Other News