Barchester adds home to portfolio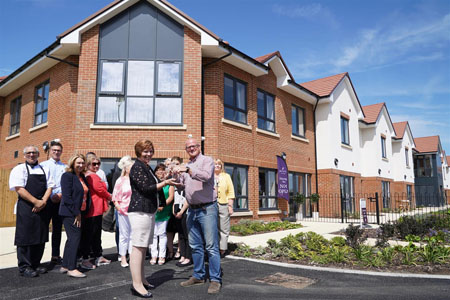 Barchester Healthcare recently received the keys to Mortain Place Care Home in Eastbourne, enhancing the independent care home provider's portfolio.
Lesley Standing, the general manager of Mortain Place was delighted to accept the keys to the latest 80-bed property on Pevensey Bay Road from the project construction manager Mark Tomalin from McGoff Construction. During the build, more than 100,000 bricks were laid, over 750 energy saving light bulbs were fitted, and in addition to 1,800m² of turf, 500 plants, trees and shrubs were used to create the landscaped grounds.
Lesley Standing says: "The builders have done a sterling job and the finish is second to none. Our expert interior design team has also added flair and luxury furnishings to the interior, completing the entire refurbishment in just two weeks!
"Our intention is to create a building that offers bespoke, high quality care to our residents, where we can provide person-centred care to meet their individual needs. Personalised care really is at the heart of everything we do and we are looking forward to welcoming our first residents in September."
When it opens, the home will feature a café with orangery, a private dining room, choice of lounges, spa bathrooms, a life skills kitchen, a large terrace, an in-house hair salon and en-suite bedrooms with garden access for ground floor rooms. A daily life enrichment programme with an array of tailored activities, a concierge service, as well as delicious and nutritious seasonal meals will also be provided services at the home.
Mortain Place is owned and operated by Barchester Healthcare and will provide personalised residential and dementia care for 80 older people in the neighbouring community. It will open its doors to residents this autumn.
Other News