Three new products for Handicare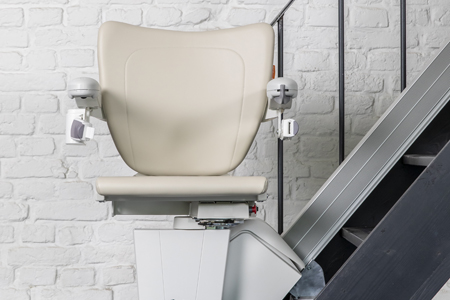 Handicare has launched the revolutionary new straight stairlift, a new staircase measurement system and a new sliding sheet portfolio.
The global company, which provides solutions to increase the independence of physically challenged or elderly people and to facilitate for their care providers and family, introduces three new products and product series at Rehacare, Düsseldorf.
The 1100 combines the best in style, design and safety features from Handicare's complete stairlift portfolio in a slimmer package to bring users the next level in stairlifts.
"Consumers are often worried the stairlift rail occupies a lot of free space on the staircase, now with the 1100 we have the narrowest stairlift rail available on the market, so it obscures less of the stairs than any other straight stairlift system," says Dick Beerepoot, project manager 1100.
"Throughout our company, we have strived to give our customers the best possible experience with the slimmest, yet very safe, stairlift rail on the market. Not only have we developed the slimmest stairlift rail, but it is also certified by the international safety standard EN81-40. Moreover, due to the patented technology there is no tooth rack on the Handicare 1100, making the rail easy to clean and safe to touch."
Handicare also introduces the improved version of PhotoSurvey: PhotoSurvey4D (PS4D). With the latest technology in staircase measurement, a stairlift adviser can now do a complete measurement within 10 minutes."With the development of Handicare PS4D, we aimed to make the everyday life of all our stairlift advisers around the world easier", says Jesper Beers, project manager PhotoSurvey.
"With PS4D we have a measurement system that enables you to do a complete staircase measurement within 10 minutes. It is not only quicker and easier, but the complete kit is also packed in an ultra slim and compact case which is easy to carry. With a faster measurement tool and a lighter case to carry, we definitely make everyday life easier."
Other product news presented at Rehacare is the new sliding sheet portfolio EasyRoll. This new portfolio consisting of sliding sheets, draw sheets, inco sheets and the range has so far been a success on the Swedish market.
Other News