Shower chair delivers long term value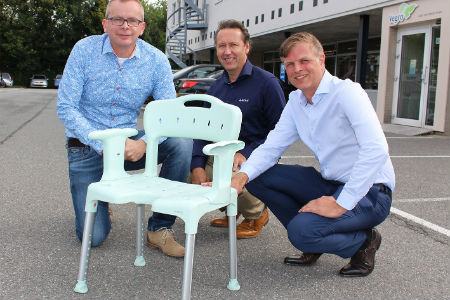 Etac, a leading Scandinavian manufacturer of specialist assistive products, has proven that its multi award winning Swift Shower Chair delivers greater value for equipment loan providers, such as Vegro in the Netherlands.
Etac and its ergonomic products are supplied by Etac R82 in the UK and the Netherlands. Etac R82 is a trusted specialist that provides the world class Etac, R82, Molift, Convaid, Immedia and Star Cushion brands to distributors, loan stores and end users. These brands are proven to help disabled children and adults enhance independence, comfort and safety across all daily occupations.
As part of its quality bathroom range, the Etac Swift is a highly durable product that delivers greater safety for those who need to sit while showering. It suits a range of abilities through an adaptable design and is extremely strong and stable.
It provides outstanding longevity via precision manufacturing and non-corrosive materials such as aluminium and polypropylene – delivering greater value for end users and equipment suppliers. Equipment loan stores who recycle and re-issue assistive equipment, such as Vegro, chose the Etac Swift as it reduces cost in the long term whilst providing assured performance.
Based in Lisse, Vegro is a Dutch social enterprise which supplies a wide range of daily living aids to both professional organisations and private customers. It sells and loans a variety of rehabilitation products including toileting, bathing and daily living aids.
Vegro has an efficient deep cleaning, quality control, storage and dispatch facility which re-issues Etac Swift Shower Chairs across the Netherlands. Despite being re-cycled 5-10 times per annum, Vegro is still re-issuing Swifts that have been in service for over eight years without any reduction in quality.
Vegro owner, Rene Kamerbeek, explains: "Vegro have tried and tested many alternative shower chairs over the years but no competitor comes close to the Etac Swift in terms of build quality and durability. We can re issue Swift time-and-time-again without compromising care. This delivers long term value for money over other cheaper products. Etac Swift is integral to the success of my business."
Ferre Leuges, managing director of Etac R82 in the Netherlands, comments: "At Etac we are often asked to justify why some of our products might cost a little more. This is because they encompass quality design and materials which cost more to manufacture. However, this means better reliabilty over the long term and the overall lifetime cost is lower.
"Cheaper products may look appealing in the short term, however they need to be replaced regularly hence overall expenditure and wastage is increased. Our Swift Shower Chair is a prime example that demonstrates better value for loan stores and more trustworthy support for end users."
Andrew King, Etac UK sales director concurs with Ferre: "The Vegro case study clearly highlights why the Etac Swift combines quality and cost effectiveness for UK equipment suppliers, distributors and NHS loan stores.
"In terms of achieving cost savings, the results that Etac products deliver continue to change procurement mindsets from a short to a long term strategy. The Swift offers increased value and peace of mind throughout the supply chain. Vegro is one of our most important international customers and our shared values reflect the Etac ethos here in the UK – to put the end user at the heart of what we do."
Other News