Reduce the risk of dehydration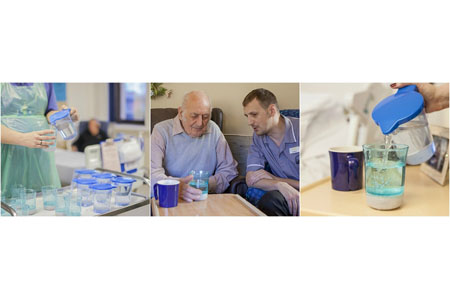 Droplet is a new modular hydration solution that encourages people to drink more.
Featuring a simple and engaging design that helps people to independently hydrate, it has been specifically created to lessen the risk of dehydration and support the work of healthcare providers in hospitals and care homes.
Comprising a three-part modular system: light and sound reminder base, mug/cup and flow control lid; the heart of Droplet is the highly sophisticated base that identifies when the user has not drunk for some time and uses flashing lights and recorded audio messages to remind the person to take a drink. It also alerts the carer so they can monitor hydration levels and patterns in patients while spotting the signs of potential dehydration early on.
Initial trials held in December 2017 at Musgrove Hospital in Taunton showed a 63 per cent increase in patients taking a drink with excellent feedback from care workers. Facilities manager, Philip Shelley, says: "Droplet supports the crucial element of hydration for healthcare professionals to monitor, manage and improve patients' fluid intake. This is why at Musgrove Park we are introducing Droplet in every ward."
The innovative base seamlessly attaches to either the Droplet Mug or Tumbler and can be customised to suit the environment and needs of the user. Encouraging and supportive messages can be either be pre-set or recorded while a night light glows to help carers and users easily identify the cup at night.
Other key design features include:
• the mug, tumbler and lid are made from Tritan, which are scratch, shatter, odour and stain resistant and it can be easily cleaned in a dishwasher
• the mug features a broad stable base and chunky open ended handle, while being lightweight and comfortable to use, allowing people with weak or swollen hands to easily grip the handle or body of the mug with one or both hands
• the mug and tumbler have discreet measuring lines at 100ml and 200ml to help carers record fluid levels and make thickened drinks
• the mug and tumbler insulate the heat of the drink which means users can hold the cup without burning their hands
• a flow control lid provides dignified support to those who suffer from tremors or swallowing problems. It easily clips on and off the mug or tumbler and has a hole for either a Pat Saunders straw or a regular straw
• the flow control lid has a discreet recessed spout that controls the flow of liquids including stage 2 thickened drinks and is made from Tritan for extra durability
• designed with speech and language therapists, who have stressed the importance of the user drinking normally. When the user drinks from the flow control lid they will not need to learn a new way of drinking.
Created by Spearmark product designer, Ellie van Leeuwen who was inspired to design Droplet after her grandmother left hospital severely dehydrated, Droplet has already been welcomed into care homes and hospitals as part of pre-launch trials.
Commenting on the launch, Ellie says: "I wanted to create a product that made it easier for patients to self-hydrate, but also supported healthcare professionals in spotting the signs of dehydration. I'm so proud of the final result and it's wonderful to now see patients and carers benefiting so greatly from it – the feedback we've had from both healthcare professionals and patients has been phenomenal."
Other News