Next generation safety flooring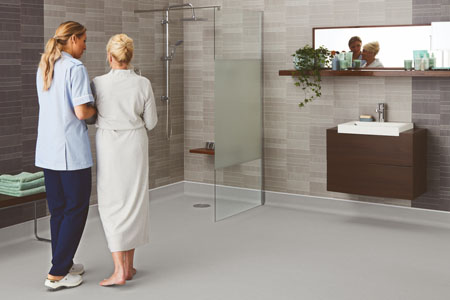 Polyflor has launched of the Polysafe Quattro collection, a safety flooring range that offers barefoot and shod sustainable wet slip resistance with a stud-free finish for enhanced comfort underfoot.
Polysafe Quattro has been designed to provide a high degree of slip resistance in continually wet areas such as standard and adapted bathrooms, walk-in showers and wet rooms in the care home sector. As the potential for slips is higher in wet environments, it is important to choose a HSE compliant safety flooring such as Polysafe Quattro which offers sustainable slip resistance, assured throughout the product's guaranteed life.
Polysafe Quattro has been engineered to offer enhanced slip resistance for bare feet and footwear, achieving 50+ on the Pendulum Test (Slider 96) plus Class B to DIN 51097 for barefoot use and also conforming to the EN 13845 European safety flooring standard, with successful completion of the 50,000 cycles abrasion test. Polysafe Quattro is available as a 2mm gauge flexible sheet which allows it to be thermally welded, coved up walls and easily installed around drains and awkward corners for a hygienic and watertight wall to floor finish.
Polysafe Quattro is available in a carefully developed colour palette of 12 shades, including warm neutrals, fresh blues and soothing greys that will complement any interior design scheme in a commercial or residential setting. Six shades feature a subtle tonal chip design, whilst the other six are a solid colour with colour complementary aggregate. Ideal for creating a calming ambience, these designs have been specifically developed for use in dementia friendly environments, generating a harmonious feel whether in a residential care setting or within a person's home.
Tom Rollo, Polyflor's marketing manager, comments, "Polysafe Quattro has been designed to enhance both commercial and residential interiors and encourage a sense of wellbeing. This range is an exciting addition to our safety flooring portfolio offering an aesthetically pleasing yet practical solution for areas where there is a high slip risk, so users can feel comfortable and safe."
Manufactured in the UK, Polysafe Quattro is 100% recyclable through the Recofloor vinyl take back scheme and contains recycled material. The collection has also achieved a generic BRE A+ rating (ENP 415) in major use areas, helping to contribute points within a BREEAM Assessment for a building. Polyflor is the first floor covering manufacturer to be awarded BES 6001 certification for Responsible Sourcing, notably achieving an 'Excellent' rating.
Other News