Bristan launches infrared shower panels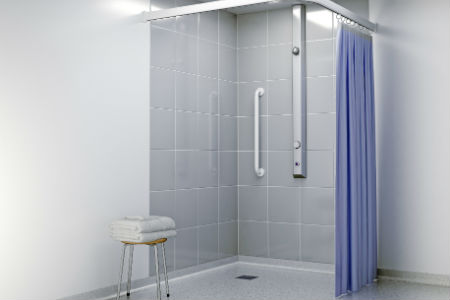 Bristan has launched two new infrared shower panels, designed to offer facilities managers ultimate control, high levels of efficiency and the utmost infection prevention methods.
Featuring the latest in infrared technology, the shower panels provide accurate timed-flow control that can be adjusted to suit individual site needs, as well as meeting BREEAM requirements. Additionally, each shower panel is supplied with a remote control key- fob to allow several parameters, including run-time, duty-flush and sensor activation distance, to be set by on-site personnel.
The panels are powered by readily available 1.5V AA size batteries using very low voltage electronics. For peace of mind the battery life of the panels has been tested to over 500,000 activations with the potential to provide several years' worth of use on just one set of batteries. What's more, with no wiring needed when fitting, the installation process is drastically simplified with a pre-plumbed isolation inlet at the top of the panel for easy access.
In terms of infection control, the panels have an anti-microbial coating, which helps with cross-contamination as well as cleaning, keeping the surfaces safe for future users. To help support water saving, the panels come pre-fitted with max flow limiters of eight litres per minute, preventing water wastage whilst still giving the feel of a powerful shower.
With a quick-start guide included, and clear, concise fitting instructions, installation, commissioning and servicing has been made as easy as possible for time-stretched installers and building managers.
Chris Tranter, group product specification manager at Bristan, says: "Our new infrared shower panels have been designed to offer a stylish, yet fully-functional, solution for healthcare installations, the perfect addition to our extensive specification range.
"Fundamentally, the shower panels, being non-touch, can help to significantly reduce the risk of cross-contamination, with the added benefit of wastage reduction. Furthermore, the use of battery power reduces installation time and provides facilities managers with reassurance that the panels will continue to run for a long period of time.
"This is the first of a number of ground-breaking new products we are launching this year, as we continue to provide our customers with the complete solution to healthcare specification."
Other News