Comprehensive communications range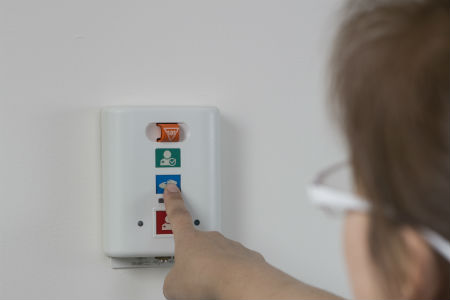 Multitone Electronics plc, a specialist in the design, manufacture and implementation of integrated communication systems, has announced the launch of its EkoCare range.
The patient and staff safety solution offers the ultimate in flexible, reliable and cost-effective wireless nurse call and alarms for care/nursing/retirement homes or hospitals – all automatically monitored and overseen for reassurance and report/compliance recording.
Husam Al-karnaz, solutions architect at Multitone, comments, "EkoCare is the perfect solution for any healthcare facility. It offers nurse call and patient alarm units, which can be wall-mounted, hand-held or use a pull-cord (for bathrooms), along with staff units with alarm and assist options to enhance safety and communications. Using a mesh-based network for failsafe reliability and exact alarm location, the solution utilises wireless repeater units for quick, easy and low-cost installation and maintenance."

To ensure patients are fully protected, be they bedbound or mobile, EkoCare is designed to pinpoint their exact location and to alert the right staff immediately. Similarly, the solution is perfect for protecting staff, especially those that work in isolation or late at night. For peace of mind, all the portable devices are powered by rechargeable batteries and are IP67 compliant for resistance to water, liquids and dust.

Multitone identified a gap in the market for a comprehensive solution, as Husam elaborates, "Traditional alarms offer either static buttons, which hinder user mobility, or mobile alarms that do not pinpoint patient location. They also usually require extensive mains rewiring, which multiplies the cost, as well as necessitating disruptive and expensive ward or room closures."

Husam adds, "EkoCare directly addresses all these important usability requirements, while employing powerful software-powered monitoring for peace of mind. Our solution typically costs less than half the price of a traditional configuration, by avoiding costly rewiring and disruption to critical facilities."

EkoCare uses Multitone's dedicated radio platform, which was developed to provide enhanced reliability and accuracy, beyond that delivered by infra-red (IR) or Wi-Fi location solutions. IR can struggle to transmit through objects (such as a person) and Wi-Fi offers poor accuracy.

On alarm activation, a message is transmitted across the smart radio-based network of beacons and repeaters to the Multitone hub, which relays the alert to a pre-set individual or group (with an acknowledgement returned to the sender).

The Multitone radio network's 'mesh' technology means that, in the unlikely event of a beacon or repeater failure, the message will be retransmitted across an alternative pathway. If there is no response within a pre-configured time, the alarm can be further escalated via a pager, two-way radio or mobile device.

The EkoCare range offers a broad range of fully compatible components to suit any healthcare requirements. The range includes: patient bed unit alarm; patient bed button; illuminated over the door alarm; bathroom alarm; staff assistance and alarm fob; staff assistance a alarm messenger; network repeater


Other News
Featured Supplier

Founded in 1955, based in Ross-on-Wye, UK. A privately-owned company with over 65 years of British innovation in waste disposal management.
Haigh designs and fully manufactures a well-established range of Haigh bedpan disposal macerators that are trusted by hospitals and care facilities throughout the UK and around the world. The reliable...
Upcoming Events
The King's Fund, Cavendish Square, Marylebone, London W1G 0AN
22nd June 2021
Liverpool, Aintree Racecourse
13th July 2021
Glasgow, Hampden Park Stadium
9th September 2021
Birmingham, NEC
15-16 September
London, Epsom Downs Racecourse
19th October 2021
Cardiff, Cardiff City Stadium
9th November 2021