TGA to launch four wheel folding scooter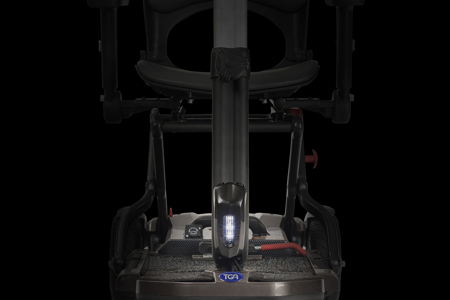 TGA will be launching the new four-wheel folding Minimo Plus 4 mobility scooter at Naidex 2017.
The new Minimo Plus 4 is one of five new exciting products being launched this Spring by TGA. The folding Minimo and Maximo scooter range from TGA continues to be hugely popular since it was introduced in 2013. It includes the standard Minimo, the award-winning Minimo Plus, the larger Maximo and now the new Minimo Plus 4. The Minimo Plus 4 takes comfort and stability to the next level whilst maintaining all the benefits of transportability and flexibility that the folding Minimo is renowned for across the UK.
The Minimo Plus 4 has two front wheels positioned further apart for enhanced stability over more challenging terrain. This new model is perfect for potential scooter owners who prefer a more traditional 4-wheel scooter. It can be folded in seconds with one hand and requires no parts to be dismantled for storage. Strain-free lifting is assured as the scooter only weighs a mere 9.9kg when levering into a car boot and the ultra-lightweight lithium battery can be lifted with a single finger. Through a combination of lightweight carbon fibre components, advanced engineering and a quality finish, the new Minimo Plus 4 from TGA is set to raise the bar in the car boot class once more.
The Minimo Plus 4 promises to be a market-leading choice for holiday makers and business travellers who need a mobility scooter that is easy to take on board planes, trains and buses. Through its superb manoeuvrability and slimline chassis, it is permitted for travel on public transport where disabled passenger passport schemes are provided and its super-quick folding mechanism ensures taxi drivers can handle without hassle. Despite its compact size the Minimo Plus 4 has an impressive user weight capacity of 115kg (18st) and the powerful 14.5ah battery delivers a range of 24km (15 miles). Its pneumatic tyres are available with TGA's proven puncture sealant as an option for total peace of mind.
Daniel Stone, TGA managing director says: "The folding Minimo Plus 4 is one of several pioneering products we are launching at Naidex this year. This evolution in our award-winning range will provide the perfect solution for those who want all the original Minimo benefits along with added stability and versatility over varying terrain.
"Our latest Minimo includes the fully adjustable TGA armrests and a more supportive seat so owners can travel in a more relaxed position with better posture. The new Minimo Plus 4 reiterates our commitment to engineering innovation that is 100% focused on delivering flexibility, reliability and safety for assured independence further afield.
"I would encourage all show visitors to test drive our complete Minimo and Maximo range around the TGA Test Track at Naidex – a unique opportunity to experience the very latest in compact assistive technology."
Other News