Awarded UK Innovate funding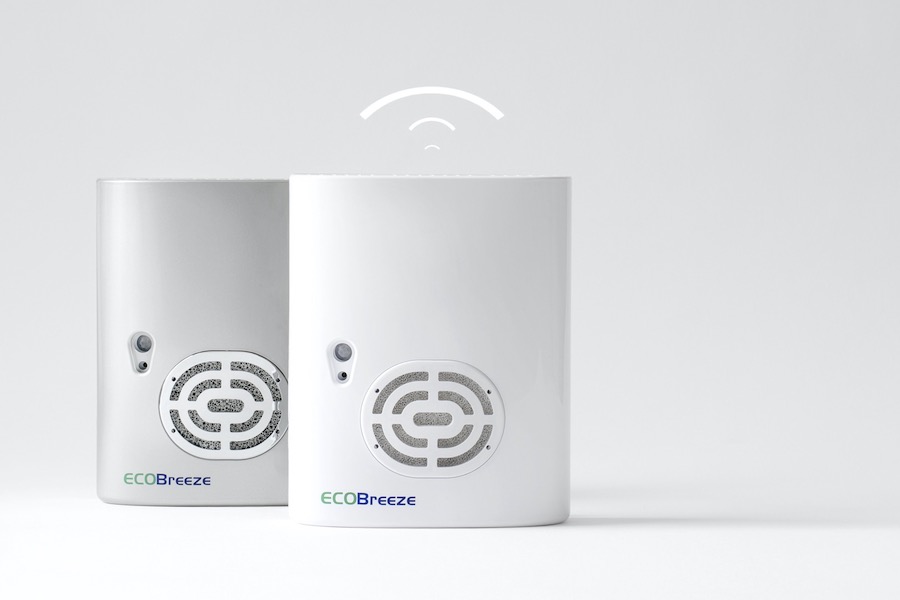 EcobreezeSmart is creating a buzz in the global healthcare scene.
The healthcare industry has traditionally been characterized by manual processes and close monitoring of patients. The new EcobreezeSmart is a low-cost IoT-solution that offers organisational and operational insights. Notifications can be delivered to care providers of urgent resident needs to be addressed at short notice, as well as assisting with the day-to-day management. Responses to environmental dangers can be automated; heating and cooling systems can be remotely monitored. Configurable triggers can be set to, for example, ideal room temperature for at-risk residents when temperatures drop in winter, or in the inverse case, prevent overheating in times of notable humidity. Remote monitoring can aid in the health and wellbeing of residence.
EcobreezeSmart is an award-winning air care solution with built-in data capturing functionality. No longer do you have to invest in expensive standalone technologies that monitor individual metrics.
EcobreezeSmart can help your care home become as efficient as possible without sacrificing quality of care. EcobreezeSmart can help you to control conditions for maximum comfort of residents as well save time and money by optimising care and cleaning routines. Moreover, the system can send text and/or email alerts based on customised parameters.
Through organisational insights EcobreezeSmart data can vastly improve the quality of service within care centres as the sensors can instantly notify staff of patients' activity. In the case of Alzheimer's sufferers for example, staff can be notified when patients are leaving or entering a room. EcobreezeSmart positioned at different locations within a care facility can provide further knowledge about patients' movements.
All data and insights can be accessed via a bespoke web portal where you can view and download real-time data 24/7. The web portal also provides central user access for room-to-room control settings. EcobreezeSmart's data capturing technology enables the collection and analysis of data to deliver actionable insights.
Furthermore, EcobreezeSmart reduces health risks associated with indoor pollution. Creating a clean and comfortable environment for your clients and employees is now more important than ever. In fact, 60% of employees and clients say seeing a premises being actively cleaned is the most important part of their experience. EcobreezeSmart offers a solution to this by constantly cleaning the air of indoor pollutants including odours, as well as using data to optimise cleaning routines.
In the wake of the pandemic, odours in care homes will no longer be ignored by family or friends of residence, as odours are directly linked to poor hygiene. There could not be a more important time to optimise your cleaning strategy, minimise costs and better protect employees and residents.
That is why now is the time to invest in EcobreezeSmart. Our solution is already helping our customers by enabling them to optimise their cleaning strategy and minimise complaints, thereby empowering managers to focus on other business-critical tasks.
Often air filtration systems are expensive and cumbersome, EcobreezeSmart slimline desktop or wall mounted device.
For more information on how your care home can benefit from a smart solution, call Ecobreeze on 01634 712709 or email [email protected] with the code TCHE 2021 for a special offer.
Other News
Featured Supplier
We are one of the UK's leading trade only large format graphics and banner printers.  Established as a small sign company in 2008, we have grown in scale and now have 1000's of loyal trade clients in the UK and Europe.  We have developed a trade online hub to cater for your needs quickly, efficiently and as cost effectively as possible.
Our...
Upcoming Events
The King's Fund, Cavendish Square, Marylebone, London W1G 0AN
22nd June 2021
Liverpool, Aintree Racecourse
13th July 2021
Glasgow, Hampden Park Stadium
9th September 2021
Birmingham, NEC
15-16 September
London, Epsom Downs Racecourse
19th October 2021
Cardiff, Cardiff City Stadium
9th November 2021